To see all of Bruce Fife's health books

click here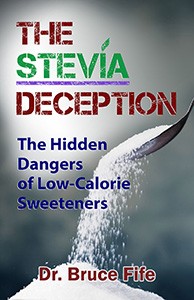 The Stevia Deception: The Hidden Dangers of Low-Calorie Sweeteners
by Bruce Fife, N.D.
Through the power of persuasive advertising and clever marketing, we've been sold on the idea that stevia is a natural herbal sweetener that is not only harmless but even health-promoting. As such, it is promoted as a better choice over sugar or other low-calorie sweeteners. Stevia has rapidly become a multimillion-dollar industry heavily promoted by Cargill, Coca-Cola, PepsiCo, and other multinational corporations who are taking full advantage of its healthy image to sell their products.
Despite all of the marketing hype, stevia is not the innocent little herb it is made out to be—and it is not harmless. The stevia sweetener you purchase at the store is a highly refined, purified chemical that is little different from any other artificial sweetener, with many of the same drawbacks and dangers. To say that stevia is harmless because it is derived from an herb is like saying sugar and cocaine are harmless because they too are derived from herbs.
The author's observation of troubling adverse reactions associated with stevia led him on an investigation that uncovered disturbing facts hidden from the public, including studies that contradict the sweetener's safety and assumed benefits. click here to read more
Stop Vision Loss Now!
Prevent and Heal Cataracts, Glaucoma, Macular Degeneration, and Other Common Eye Disorders
By Dr. Bruce Fife
Losing your eyesight is a frightening thought, yet every five seconds, someone in the world goes blind. Most visual impairment is caused by age-related disease, such as cataracts, glaucoma, macular degeneration, and diabetic retinopathy—debilitating conditions for which modern medicine has no cure. Treatment usually involves managing the symptoms and attempting to slow the progression of the disease. In some cases, surgery is an option, but there is always the danger of adverse side effects that can damage the eyes even further. click here to read more
Dr. Fife's Keto Cookery: Nutritious and Delicious Ketogenic Recipes for Healthy Living
By Dr. Bruce Fife
Described as the ultimate ketogenic cookbook, Dr. Bruce Fife has compiled into one volume his favorite ketogenic recipes, nearly 450 in all! It includes 70 vegetable recipes, 47 salads and 22 dressings, 60 egg recipes, 50 delicious high-fat sauces for meats and vegetables, as well as a variety of mouthwatering wraps, soups, and casseroles, with a creative array of meat, fish, and poultry dishes. With this resource, you will always have plenty of options to choose from for your daily needs.  click here to read more
The Coconut Ketogenic Diet
Supercharge Your Metabolism, Revitalize Thyroid Function, and Lose Excess Weight
By Dr. Bruce Fife
You can enjoy eating rich, full-fat foods and lose weight without counting calories or suffering from hunger. The secret is a high-fat, ketogenic diet. Our bodies need fat. It's necessary for optimal health. It's also necessary in order to lose weight safely and naturally.  click here to read more
Coconut Cures
Preventing and Treating Common Health Problems with Coconut
By Bruce Fife, N.D., Foreword by Conrado S. Dayrit, M.D.
Discover the amazing health benefits of coconut oil, meat, milk, and water. In this book you will learn why coconut oil is considered the healthiest oil on earth and how it can protect you against heart disease, diabetes, and infectious illnesses such as influenza, herpes, Candida, and even HIV. There is more to the healing power of coconut than just the oil. You will also learn about the amazing health benefits of coconut meat, milk, and water.  click here to read more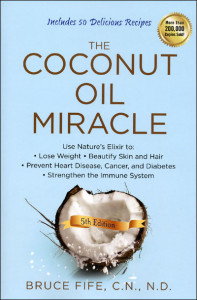 Coconut Oil Miracle
Fifth Edition
By Bruce Fife, N.D., Foreword by Jon j. Kabara, Ph.D.
A completely revised and updated guide for maximizing the health and beauty benefits of coconut oil. For years, The Coconut Oil Miracle has been a reliable guide for men and women alike. Now in its fifth edition, this revised and updated version has even more information on the benefits of coconut oil and shows readers how to use it for maximum effect, including a nutrition plan with 50 delicious recipes. click here to read more
Stop Alzheimer's Now!
How to Prevent and Reverse Dementia, Parkinson's, ALS, Multiple Sclerosis, and Other Neurodegenerative Disorders
By Bruce Fife, N.D., Foreword by Dr. Russell L. Blaylock, MD
The brain is fully capable of functioning normally for a lifetime, regardless of how long a person lives. While aging is a risk factor for neurodegeneration, it is not the cause! Dementia and other neurodegenerative disorders are disease processes that can be prevented and successfully treated.
This book outlines a program using ketone therapy and diet that is backed by decades of medical and clinical research and has proven successful in restoring mental function and improving both brain and overall health.   click here to read more
Cooking with Coconut Flour: A Delicious Low-Carb, Gluten-Free Alternative to Wheat
Revised Second Edition
By Bruce Fife, N.D.
Coconut flour is a delicious, healthy alternative to wheat. It is high in fiber, low in digestible carbohydrate, and a good source of protein. Coconut Flour Recipes Do you love breads, cakes, pies, cookies, and other wheat products but can't eat them because you are allergic to wheat or sensitive to gluten? Perhaps you avoid wheat because you are concerned about your weight and need to cut down on carbohydrates. If so, the solution for you is coconut flour. click here to read more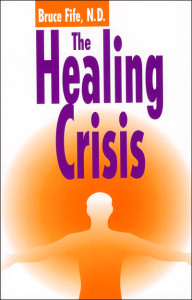 The Healing Crisis
3rd Edition
By Bruce Fife, N.D.
In this book you will learn how to distinguish between a healing crisis and a disease crisis.  All natural health treatments, whether they involve dietary changes, vitamin or herbal supplementation, detoxification therapies, or bodywork, focus on removing the disease causing agents using the body's own power of healing. This process often brings on an unpleasant reaction known as the "healing crisis". Unlike a disease crisis (illness) the healing crisis is a sign of improving health. click here to read more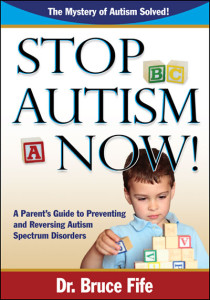 Stop Autism Now!
A Parent's Guide to Preventing and Reversing Autism Spectrum Disorders
By Bruce Fife, N.D.
Over the past 12 years there has been a 17 percent increase in childhood developmental disabilities of all types including autism, attention deficit hyperactivity disorder (ADHD), epilepsy, mental retardation, and others. Antidepressants, antipsychotics, and stimulants are often prescribed to help them cope with their symptoms. No possibility of a cure is offered, as the condition is considered hopeless. But these conditions are not hopeless. They can be prevented and successfully treated without the use of drugs. This book describes an innovative new dietary and lifestyle approach involving coconut ketone therapy that has proven very successful in reversing even some of the most severe developmental disorders.

To see all of Bruce Fife's health books click here